Via the web presence DataFile you have the possibility to upload files and make them available to other users or you can download files yourself from all kinds of sources.
To upload your own documents and other data, you can either use the free uploader or, if you want to supply larger files, create a paid account at datafile.com.
Positive characteristics of the supplier
Simple and straightforward
Favorable and good
High user-friendliness
Various payment methods
The complete offer of DataFile at a glance
To become active with DataFile, you must first register with your email address and password and confirm with a hack that you are not a robot.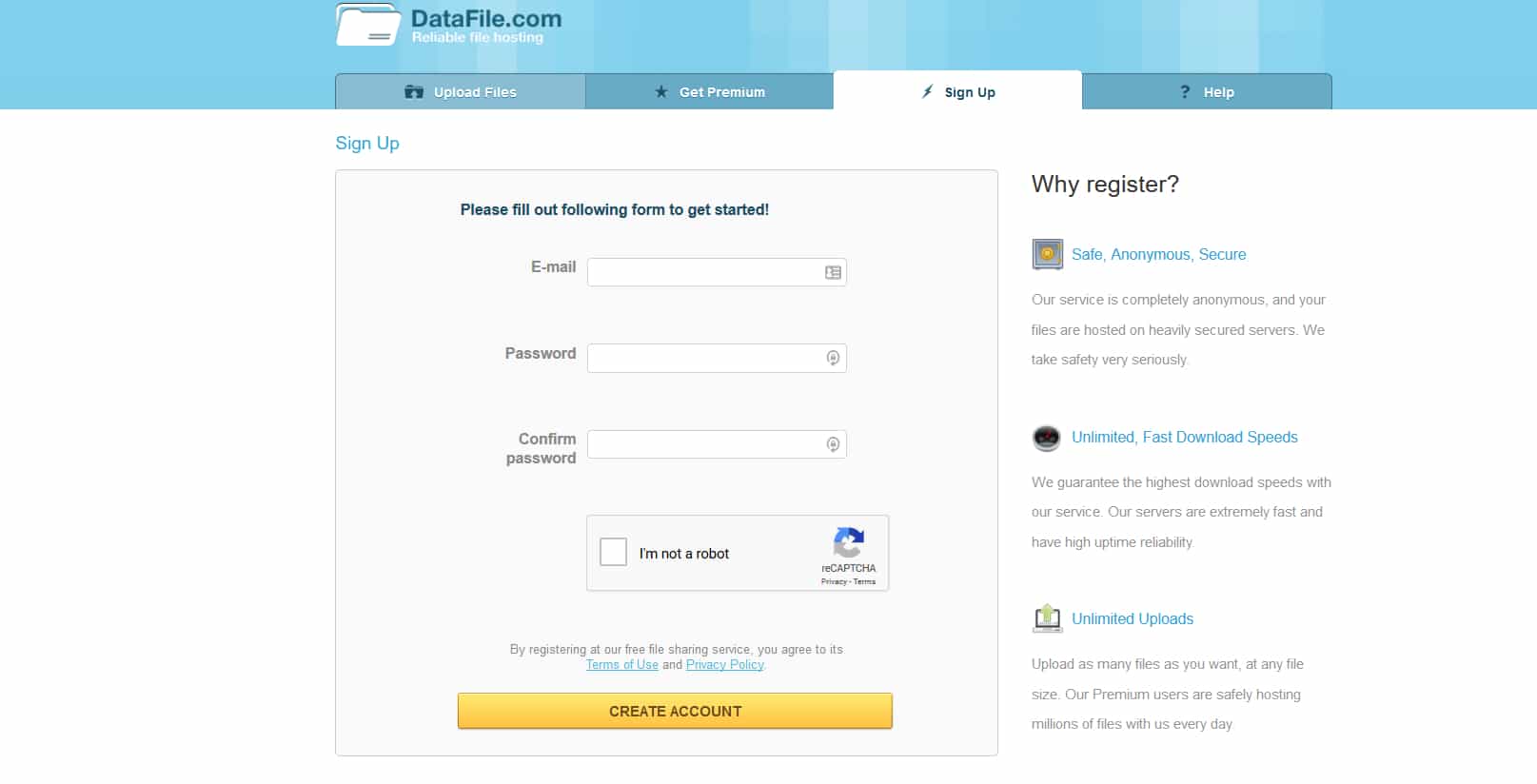 Once this is done, you can use the free service, which allows you to upload files up to a maximum of 10 gigabytes and a total of 500 gigabytes, or choose a DataFile Premium account.
This is valid for 30 days and costs $14.99, which is equivalent to 50 cents per day. The advantages are that files up to 30 gigabytes can be uploaded, which can be stored indefinitely if the account is continued (if deleted, the data is still available for 30 days) and there are no waiting times for downloading. There are many ways to pay for DataFile Premium, from credit card payments to GooglePlay and bitcoins, almost anything is possible. Many authorized dealers are also available in case your desired additional payment option is not directly available via DataFile Premium.
| | | |
| --- | --- | --- |
| Brand | Free of charge | 30 days for $14.99 |
| download speed | Minimum | Maximum |
| Upload-GB | 10 GB | 30 GB |
| Data Preliminary Provision | 30 days | Unlimited |
| Pausing downloads | No | Yes |
| No advertising | No | Yes |
| Multiple Downloads | No | Yes |
| Download delay | 30 seconds | 0 second |
Privacy Notice and Data Protection
It is now self-evident that users of services on the Internet always ensure that your data is treated securely and confidentially. We have carefully reviewed the service of the DataFile account and believe that your data with Datafile is absolutely secure and will be treated confidentially.
DataFile guarantees you absolutely reliable processing of your data in accordance with your terms and conditions. The data is made anonymous in order to improve the DataFile service and to draw technical marketing conclusions. All purchase data, your financial information, as well as your name and all personal data will be kept strictly confidential in accordance with applicable law and will be kept safe in accordance with the latest standards.
All in all, your data at DataFile is absolutely secure and will only be passed on to the company's direct partners in accordance with the same or higher standards and applicable laws, such as DataFile. With DataFile.com, you can be sure that your information is in reliable hands and will never be passed on to unauthorised persons.
After-sales service
You can contact DataFile directly in 3 ways. The two options via internet are recommended. On the one hand, under the menu point, you will find the Contact tab on the far right, which takes you to the contact form. Here you can send a message to DataFile using the appropriate category, your e-mail address and any attachments in case of problems and comments. In addition, there is an e-mail address available under the same tab, which you can also use. Finally, the postal address can also be found there.
User-friendliness
Uploading to DataFile is very simple and easy. The Uploader can be found on the home page or on the top left under the tab "Uploading files". It is placed directly in the middle and cannot be overlooked. All other important places on the website can be reached directly at the top, so that you always have everything at a glance. The website has been designed so that you rarely have to scroll and can usually see everything at a glance.
Just like the uploader, everything is in the middle, so you always have a good overview and don't have to search for anything. Your files are sorted into a very clear file manager, which works with large icons, so you can also work with weaker eyes. With a variety of sorting options, you'll find what you're looking for quickly and reliably, even with a lot of files.
DataFile generally has a very simple and practical structure. There are no large structures or nestings, but everything is divided into a maximum of 3 levels, so almost everyone can get along very quickly and work productively with DataFile. The main actions for uploading and managing files work with just 2 tabs, which can be found at the top left, "Upload file" and "Files" in the middle. In between you will find the possibility to get a DataFile Premium Account under the category "Get Premium".
Our conclusion about DataFile
The usability and the whole site of DataFile.com is very exemplary and thanks to its simple but very good functionality it is understandable and easy to understand for everyone. Working with the DataFile account is simple, uncomplicated and very pleasant.