With Turbobit, you can not only download a large number of files, but also upload your own files and receive an attractive fee. You can choose between free use or use of Turbo.
We are happy to share our experience with you regarding the Turbobit provider and simply recommend you to make your first personal experiences with the provider with the free account.
For further information please follow the link: Turbobit Premium
Complete overview of the Turbobit range
First, Turbobit offers a valuable premium account, which allows maximum download speed. In addition, there are no mandatory interruptions, no advertising and the download manager can also be used.
In addition to the Premium account, which is called Turbo Access, visitors can also test the provider's service for free and upload the desired files with just a few clicks without an account.
If you want to purchase a Premium Turbobit account, you can choose from five subscriptions.
Bonus offers
Turbobit offers an interesting way to make money for those who make the most popular files available. Up to $40 per 1000 downloads are possible – this way you can earn not only a small salary, but a full monthly salary. In addition, you can receive valuable commissions by advertising the provider.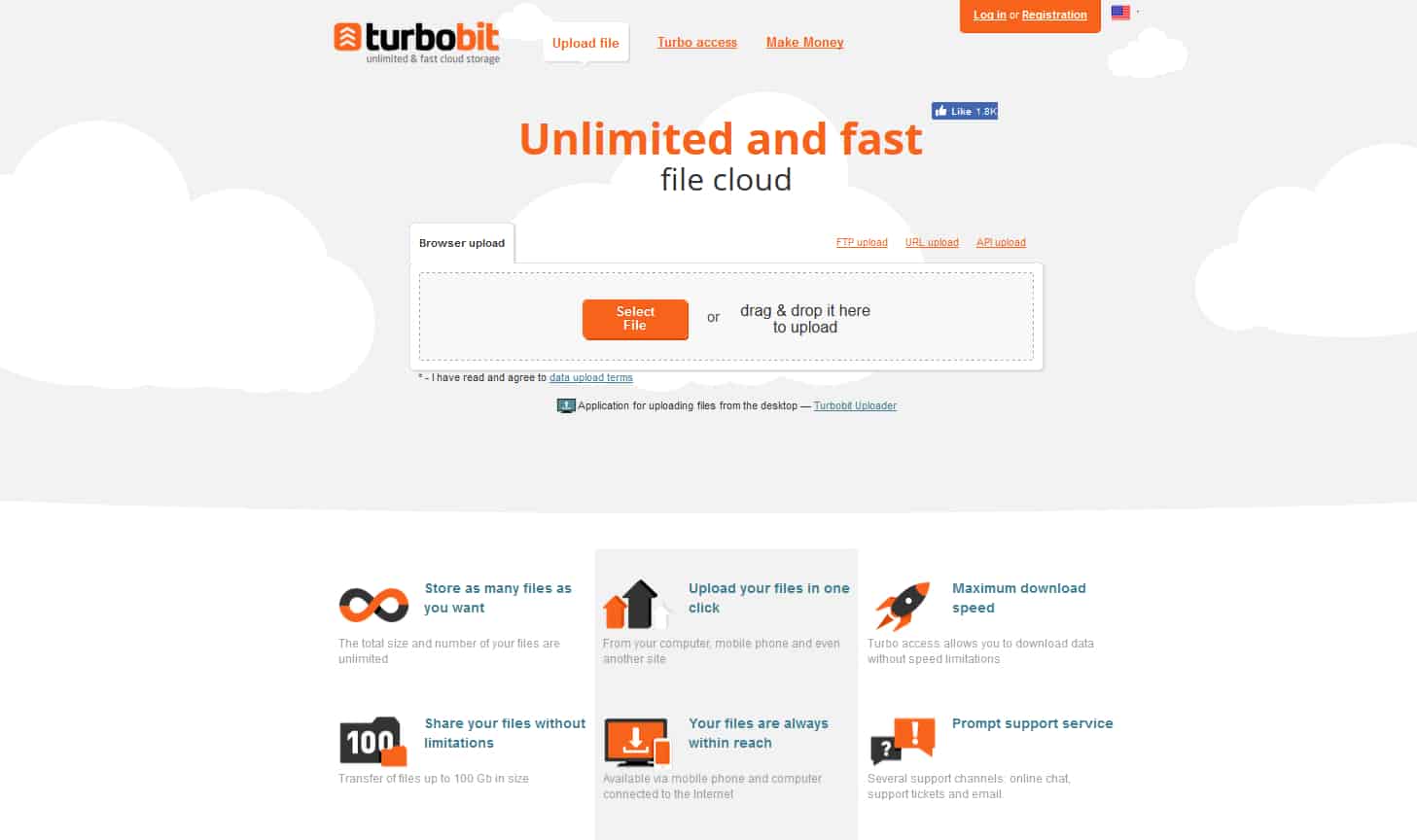 Costs and payment options
If you also want to purchase a Premium Turbobit account, there are several payment methods available from Turbobit. These include payment via MasterCard and VISA as well as Paypal, S€PA and Skrill. Anonymous payment is also possible via Paysafecard or Bitcoin. You can also log into your Premium Account with Giropay, WebMoney and many other methods. These vary from OPENBUCKS to security payments.
If you choose to renew your subscription automatically during the payment process, you will receive a 25% discount on all additional orders from your premium account, which will significantly reduce the price for future withdrawals.
| | | | | |
| --- | --- | --- | --- | --- |
| Turbo 1 week | Turbo 1 month | Turbo 6 months | Turbo 1 year | Turbo 2 years |
| 5,95 $ | 9,95 $ | 34,95 $ | 59,95 $ | 89,95 $ |
| 0,85 $ per day | 0,33 $ per day | 0,19 $ per day | 0,16 $ per day | 0,12 $ per day |
Privacy Notice and Data Protection
With regard to data protection, the provider declares that it will take all necessary measures to protect the privacy and data of visitors and customers.
When you visit the website and use the services, various data are automatically stored. For example, your email address and name are saved during registration. In addition, anonymous demographic data can be collected over time to optimize business processes and better serve customers. This includes data such as your IP address, the websites you visit, your browser or website visit time, data that is stored anonymously and not as personal data. Cookies may also be used.
Your personal data is protected by encryption to ensure traffic security.
After-sales service
Turbobit Customer Service is available via email, Skype and ICQ and answers your individual questions from Monday to Saturday from 12:00 to 18:00. To contact us by e-mail, open the contact form, select the desired area and describe your request.
In addition, you will find a FAQ area, available only in English and Russian.
User-friendliness
The website is clearly structured so that visitors can quickly see what Turbobit services it offers. The upload option, for which you don't even need to create an account, is quickly found and all the necessary information about Turbo access is quickly and clearly visible. Also, upgrading to a premium Turbobit account is easy.
On the home page, unregistered users can already load a browser and drag and drop files to the loader via "Select File" or "Drag & Drop". At the top there are two other tabs in addition to uploading the file: Turbo access and make money. While the first tab provides the user with all the necessary information about the premium account, the second tab offers interesting revenue opportunities, which are made possible by the Turbobit provider.
At the top left you will find the function "Upload file" and access to "My files". Here you can view and organize your uploaded or downloaded files.
Based on our experience with Turbobit, we can say that both Turbobit's free and premium accounts offer significant added value.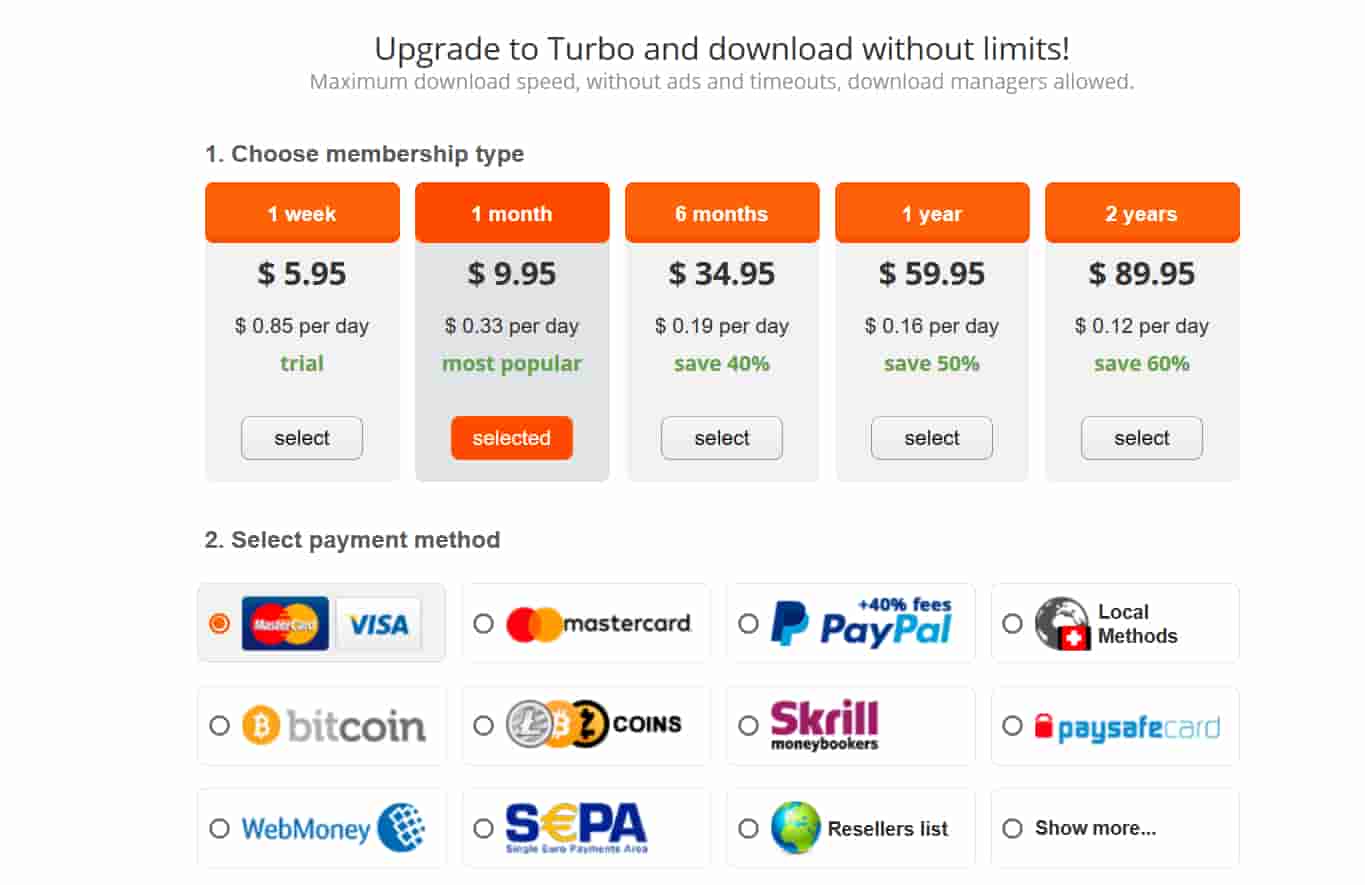 In addition to the free account functions, Turbobit Turbo Access offers a number of functions. It allows you to download the files you want at maximum download speed without being disturbed by advertising. Enforced interruptions are also eliminated and the use of a download manager is allowed.
Our conclusion about the supplier Turbobit
All in all, Turbobit is an interesting way to upload and download files. You can first test your free account and then purchase a Premium Turbobit account, which is available through various subscriptions. Thanks to our experience, Turbobit is able to convince with its comprehensive service, attractive earning potential and first-class ease of use.