Filehoster Keep2Share offers its users the highest level of security and ensures that all data is kept absolutely secure, both through its experience and the encrypted system. The round-the-clock presence and readiness of Keep2Share employees also guarantee that all data is optimally protected and that the website is always accessible.

In addition, Keep2Share offers an enormously fast speed as well as the start of downloads without waiting time, with a premium account many additional features are added.

Positive characteristics of the supplier

Premium account already available from 31 cents per day
Virus Check with Premium Account
Secure payment with Verified by VISA & Mastercard SecureCode
Use of Download Manager possible
Multiple downloads simultaneously
In addition, Keep2Share enables extremely fast speed as well as the start of downloads without waiting time. The file-hoster Keep2Share offers you a comparatively small selection of premium accounts with two tariffs. While the Premium Pro account offers you maximum speed, the bandwidth of the normal Premium tariff is slightly limited. The data volume ranges from 20,000 MB for the Premium tariff to 50,000 MB for the Premium Pro tariff.

Costs and payment options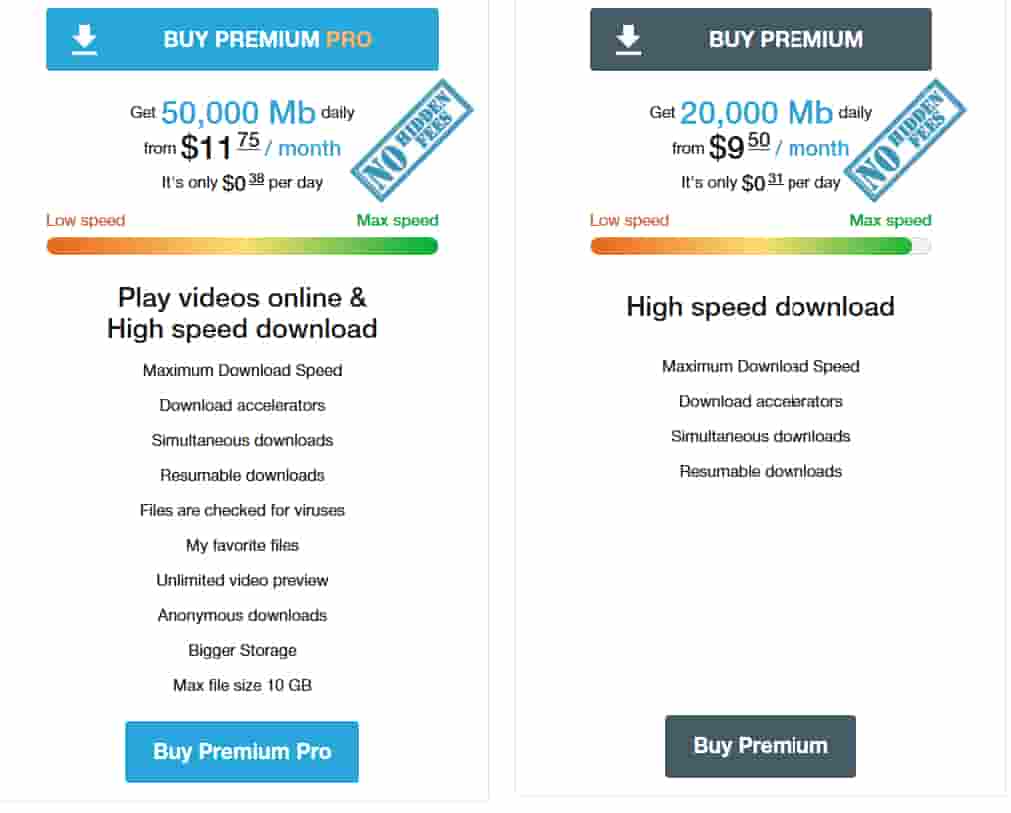 At Keep2Share you can choose between the usual payment via credit card, either with the VISA card, with the Mastercard or via American Express. When paying with your VISA card or Mastercard, you benefit from an additional security procedure at this point. These are the verified by VISA and MasterCard SecureCode procedures, which interpose additional verification when purchasing in order to effectively protect your data and your money.

In addition to payment via VISA card or MasterCard, the provider offers you further options to purchase a Keep2Share Premium Account. This includes payment with the Sofortüberweisung service, the usual online bank transfer and payment with Bitcoin. As a last option, local payment methods are available, in Germany you can pay via banks such as Postbank, DZ Bank or webmoney carry out.

The popular payment methods Paypal and Paysafe are not offered by Keep2Share. If you cannot use any of the payment methods listed and still want to pay for your account simply and securely online, you can optionally buy a prepaid credit card.
| Keep2Share PREMIUM PRO | Keep2Share PREMIUM |
| --- | --- |
| 50.000 MB per day | 20.000 MB per day |
| 11,75 USD per day | 9,50 USD per day |
| 0,38 USD per day | 0,31 USD per day |
| Maximum download speed | Fast download speed |
| Download Manager can be used | Download Manager can be used |
| Multiple downloads simultaneously | Multiple downloads simultaneously |
| Resumeable Downloads | Resumeable Downloads |
| virus check | |
| My favorite files | |
| Unlimited Video Preview | |
| Anonymous Download | |
| Larger storage space | |
| Maximum file size of 10 GB | |
Privacy Notice and Data Protection

Privacy and data protection are becoming an increasingly important topic on the Internet. We are happy to share our knowledge and experience with Keep2Share so that you can get a complete picture of the provider.

When using the Keep2Share service, personal data such as e-mail address, name or bank account as well as demographic, non-personal data are automatically stored.

Personal data is only used for services such as the payment process, for establishing contacts and for notifications, etc., and will not be passed on to third parties. Demographic data are not personal data and are collected anonymously so that privacy is also preserved at this point.
After-sales service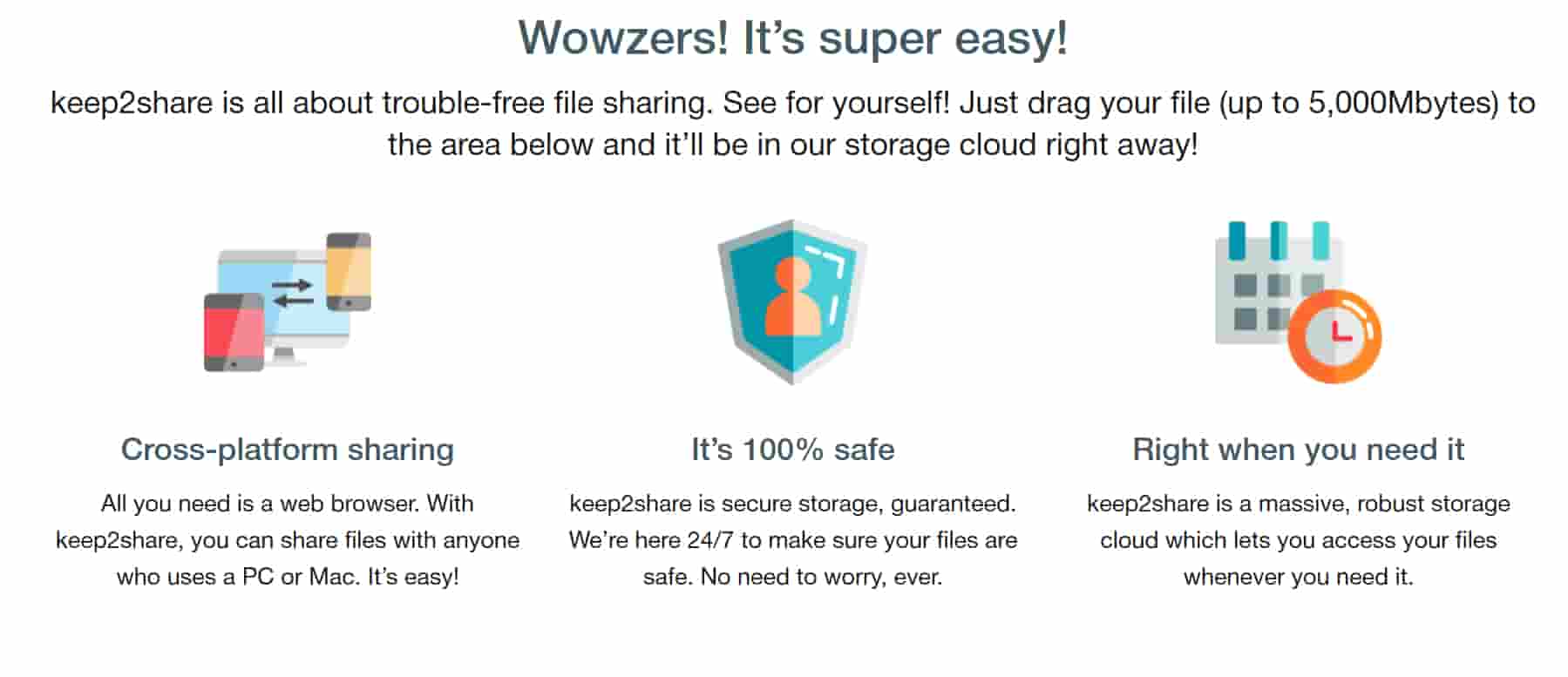 If you have any questions about the Keep2Share service, you will find the link to the service page at the bottom of the page. From here you can access the FAQ area, where many answers to frequently asked questions are already explained. The provider already has a high degree of experience and usually knows where users need help. If you can't find a satisfactory solution in this way, you can contact the support directly via the online form and describe the problem in more detail here. In this section, you can also provide Keep2Share Customer Service with feedback on your own experience with the service provider, allowing you to improve the service for yourself and other users in the long term.

User-friendliness

To log in to Keep2Share, you can easily create a Keep2Share account or register via Facebook or Google. To use the account completely, you must first confirm your email address and then select "My Files", "My Profile" and "My Favorites". In addition, you will find a way to upgrade your Keep2Share account to a premium account. Thanks to the user-friendly interface, it does not require much experience to fully use and enjoy the services of the provider.
With the Premium Account of Keep2Share you can already enjoy a fast speed which is only slightly lower than the Premium Pro version and the possibility to have several downloads running at the same time. The downloads can also be easily monitored, paused and resumed by a download manager.

Get even more with the Keep2Share Premium Pro account, which gives you maximum speed and a virus check of your files. In addition, you have more storage space, unlimited use of the video preview and storage of files in the Favorite Files folder. The Premium Pro account also allows you to download files anonymously, increasing the maximum file size from 5 GB to 10 GB with this package.

Keep2Share not only promises comprehensive data protection and privacy but also offers you attractive rates for hosting and downloading files. You can choose between two Keep2Share Premium rates, which are already available for 31 or 38 cents per day. If you want to test the offer of the provider, you can also create a free Keep2Share account.

Keep2Share Premium Account Pro offers you even more features than the Premium Account and allows you to anonymously download files, unlimited video preview and download files up to 10 GB in size.

Payment can be made by credit card and other payment methods are also available. Additional security procedures of VISA and MasterCard ensure maximum security, and many other payment methods are possible, with the exception of Paypal and Paysafe.