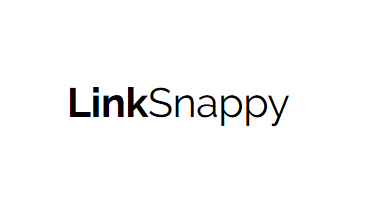 LinkSnappy multihosting offers you a premium link generator and a cloud torrent client. In addition, there are many other features that make LinkSnappy's offer even more complete and secure to use. Several payment service providers are available for simple payments, including anonymous payment methods such as Paysafecard and simple and popular methods such as Paypal. We have tested the LinkSnappy provider and would like to present our experiences with LinkSnappy.
Positive characteristics of the supplier
Possibility of free use
Anonymous payment methods
Access to more than 60 file hosts
Very easy to use
The entire LinkSnappy range at a glance
You can use the LinkSnappy provider service, on the one hand, with the free FileSnappy account and, if you wish, purchase a premium account after the trial. This can be unlocked by saving by email, it is also possible to connect through social media such as Google, Facebook and Twitter. With the free account, the daily volume of data and other functions is limited.
If you want to use the full range of the LinkSnappy service, you can use one of the four packages and purchase your Premium account. Terms are 7 days, 30 days, 90 days and 180 days.
Bonus Offers
An interesting bonus offered by LinkSnappy is the possibility to receive free subscription days by promoting your LinkSnappy Premium account. The prerequisite is that new users access LinkSnappy through the referral link and decide on a Premium subscription – the guest member also benefits from the advantages and receives a 5% discount on the first order. If you sign up for a Premium Account for 90 or 180 days, you will also receive a voucher that you can give to your friends and family.
Costs and payment methods
You can choose between different payment methods for your LinkSnappy Premium account. Payment is possible by credit card, Paypal and debit card. The payment method of the Paysafecard and several encrypted currencies can be selected for anonymous payment.
| | | | |
| --- | --- | --- | --- |
| 7 days | 30 days | 90 days | 180 days |
| 4,99 $ | 12,99 $ | 29,99 $ | 54,99 $ |
| | 30 day voucher | 90 day voucher | |
Privacy Policy
Of course, you can expect extensive data protection from the LinkSnappy provider. Your personal data will only be used for the intended processes, e.g. for registration, payment processing or contact. In addition, your IP address and other data information is stored in internal directories when you download or use the link generator. Demographic information is collected to improve the user experience and may be shared with advertising partners. Cookies are also used for optimal use. As far as our experience is concerned, at Linksnappy there is no criticism of privacy and data protection.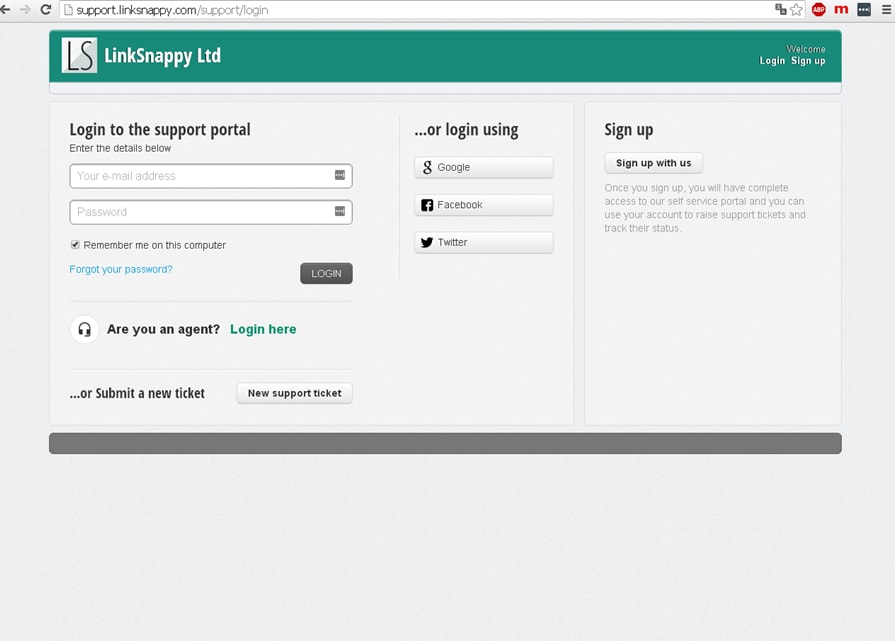 After-sales service
You can access LinkSnappy customer service by first going to the "My Account" tab after logging in. On this tab you will find other menu items, including the link to the Help Desk. Here you can create a ticket directly or connect to the Service Center, so you can easily check the status of your ticket. You can also solve your problem by visiting the FAQs at the top of the page next to the "My Account" tab. In addition, there is the live chat function, which is located in the lower right corner of the website.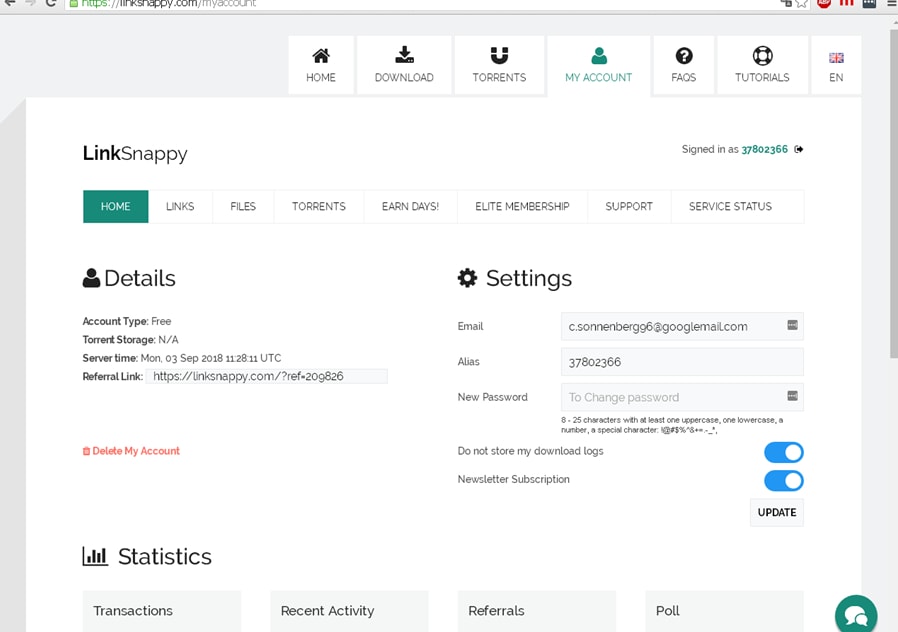 Ease of use
In the LinkSnappy test, we examine ease of use and would like to share our experiences with LinkSnappy with you. The site is clearly structured so that all the basic information about the provider can be found on the home page.
Free registration is also possible through the home page. At the bottom of the page, you will find more information about customer satisfaction by consulting other users who have already tried LinkSnappy.
Above, you'll also find a question and answer section and helpful tutorials on using Linksnappy.com. Under Status, you'll find detailed information about supported host files and information about your account status.
Once connected, the new "Download" and "Torrent" options are available at the top of the page. Here you can download and manage the files you want. Below you will find the tabs "Links" and "Files". You will also find the Premium Update option and the Support tab.
Overall, our experience shows that LinkSnappy offers good service and attractive ease of use.
The advantages of a Premium Link Snappy account
With a Premium LinkSnappy account, you can use the highest download speed with more than 60 file hosts based on our experience. In addition, you benefit from the "Private Downloads" feature, so neither your IP address nor created downloads are recorded. You can also distribute files directly online without downloading them. The Premium account also offers convenient plug-ins for Chrome, Firefox and jDownloader for automatic link generation. Customer service is available 24 hours a day, 7 days a week to help you quickly resolve any issues. If you don't like the Premium Account service, you have an immediate 7-day money-back guarantee.
Our conclusions about the LinkSnappy provider
Finally, we can say that LinkSnappy already offers a full service with the free account. The site is organized very clearly and registration is quick and easy. If you want to use the maximum download speed and benefit from additional features, you can purchase one of the four elite subscriptions to purchase a LinkSnappy Premium account. As payment methods, you will find several providers, including the popular Paypal and Paysafecard methods. The 7-day money-back guarantee is also interesting in this respect. The customer service is easily accessible, also through live chat and also the bonus offers are very interesting. In terms of our experience, the provider can therefore fully convince.