On the Filefactory website, users can both upload files and download data from other users. In addition to the premium version with costs, which enables unlimited download speed, Filefactory also offers its services free of charge to a limited extent.
The company has been one of the leading file hosters since 2005.

Positive characteristics of the supplier

Free use and Premium Account
Sharing data via social media account
Up to 5 GB per upload
Maximum speed with Premium Account
Inexpensive annual subscription available
The complete Filefactory offer at a glance
If you want to try Filefactory's service first, you can create a free account or connect via Facebook, Twitter and Google. Both the download speed and the number of available downloads per hour or day can be limited.
If you want to download or upload files from Filefactory with unlimited speed all day long, you can use the inexpensive premium service.
Four tariffs are available here, each with a duration of 30 days, 90 days and 180 or 365 days. In addition to unlimited speed and unlimited data volume, Premium Service also offers you additional benefits.
Bonus offers

An interesting bonus offer is the bonus you receive for recommending Filefactory. If you like the premium service of the provider, you can easily recommend it to family members and friends and acquaintances, which gives you an attractive commission.

Costs and payment options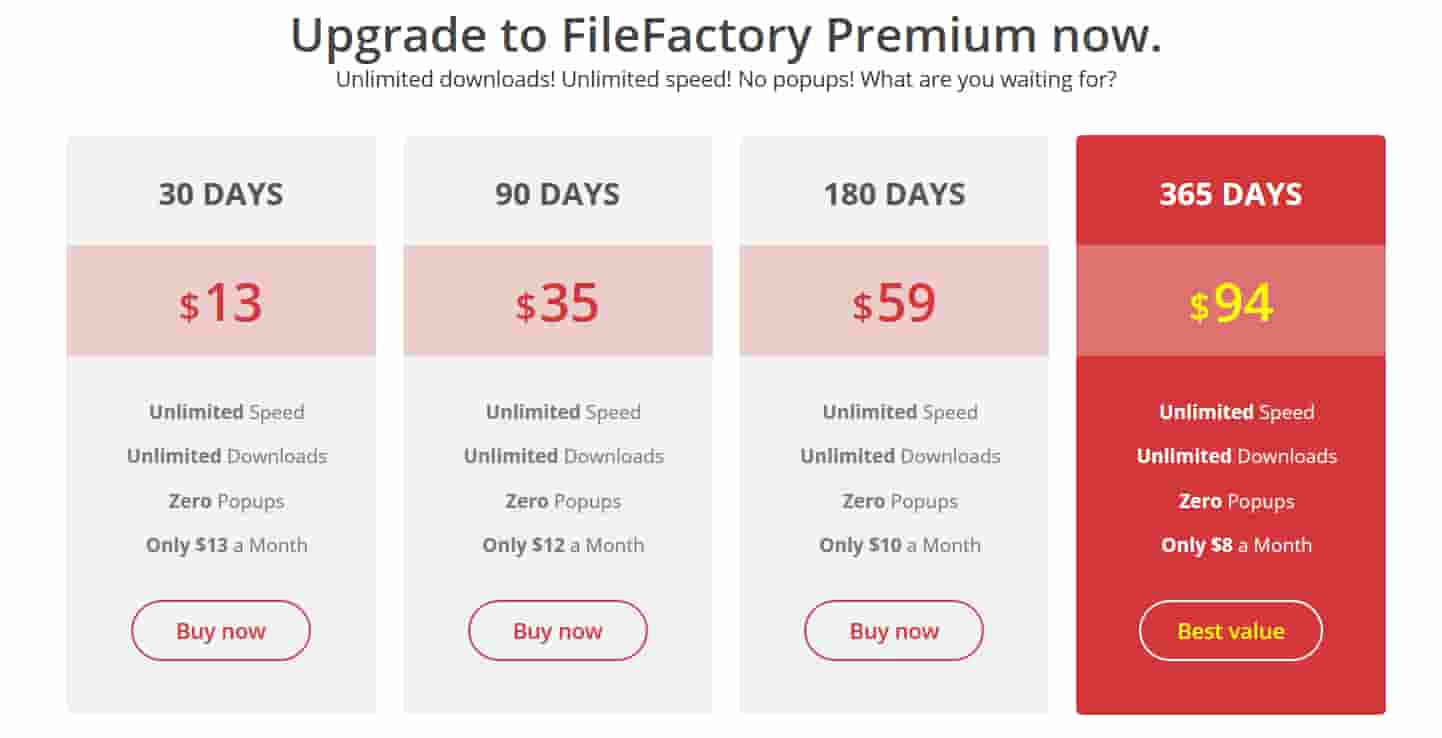 The 30-day subscription is available for $13, if you choose the 90-day version, the monthly cost is $12.

With the 180-day subscriptions you get the savings price of 10 euros and with the annual subscription the price drops to just 8 euros per month.

In addition to subscribing, it is also possible to purchase a one-time data package to increase the available volume of traffic share data, which can be 2, 5, 10 or 20 terabytes in size.

| $13 | $35 | 59 dollars | $94 |
| --- | --- | --- | --- |
| 30 days | 390 days | 180 days | 365 days |
| Unlimited | Unlimited | Unlimited | Unlimited |
| Unlimited downloads | Unlimited downloads | Unlimited downloads | Unlimited downloads |
| No pop-ups | No pop-ups | No pop-ups | No pop-ups |
| 13 dollars a month | 12 dollars a month | $10 a month | 8 dollars a month |
As far as payment options are concerned, you need a valid credit card to purchase a product from Filefactory.

It can be a VISA card, a Mastercard or the American Express Card and will be deposited in your account and used by the provider for further payment.

Payment via credit card ensures that the payment process at Filefactory is safe, fast and uncomplicated.

If it should not be possible to pay with the desired payment method the tariff with Filefactory, you can fall back on the possibility, the product with a Reseller of Filefactory for sale.
Privacy Notice and Data Protection

When looking for a suitable file hoster, users are naturally looking for the highest level of security.

Therefore many interested parties ask themselves – is the download and upload of data at Filefactory secure? We took a closer look at the provider for you and came to the conclusion that your data is secure and will be treated confidentially at Filefactory.

Filefactory guarantees a trustworthy handling of personal data, which is used to inform customers about the company, the offer and the actions of partners.

Filefactory uses your financial data exclusively for verification purposes when purchasing products and services and for billing purposes.

Demographic data is collected to tailor the site and usability to the user.

In principle, personal data are only passed on to third parties if they belong to Filefactory's partners and comply with the same data protection guidelines.

Your data is therefore in safe hands not only with Filefactory, but also with the company's business partners.

If you would like to completely prevent the transfer of your data, you can make an individual request to the provider, but this can result in a smaller selection of features.

After-sales service

To contact Filefactory customer service, you can either access the support forum in the member area or write an email to support.

User-friendliness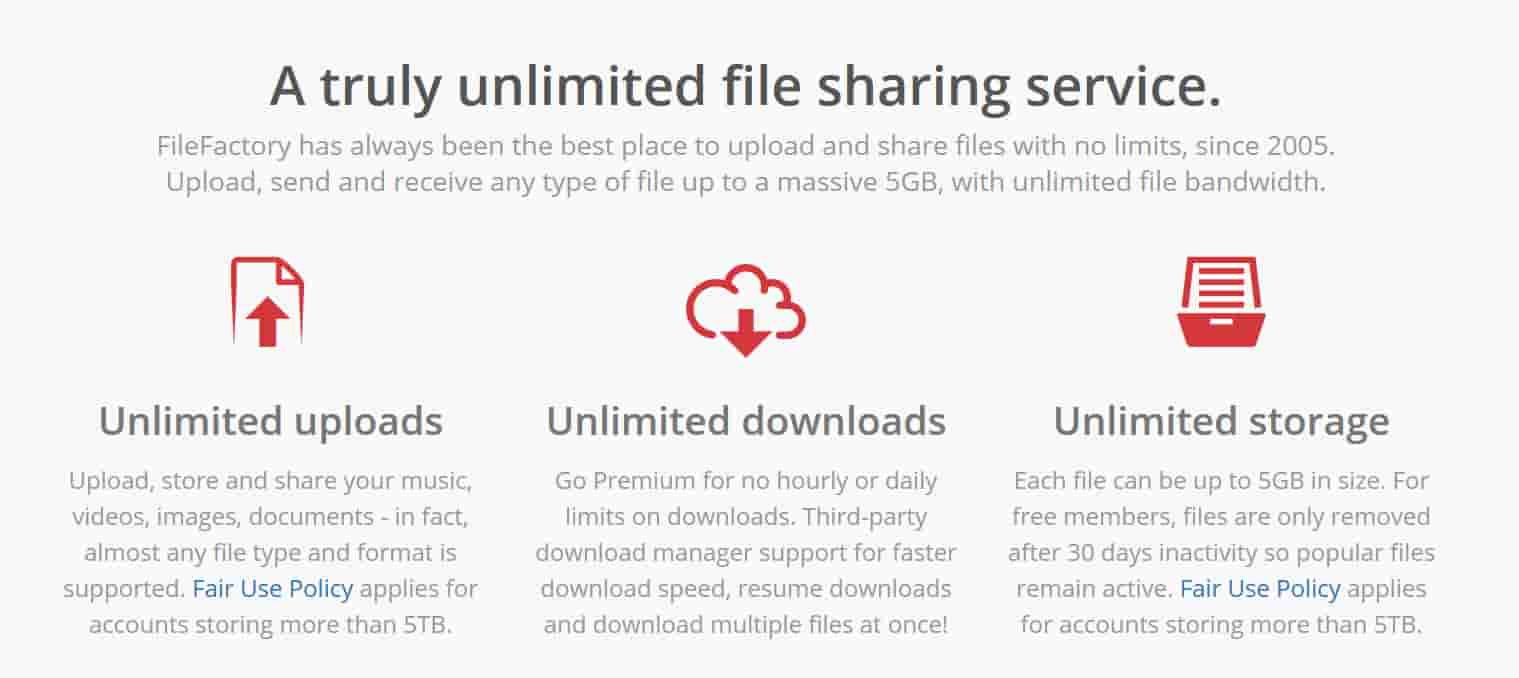 The website is very clearly arranged, whereby all necessary information is already visible on the start page.
At the top of the homepage you can create a free account and register via social media, so that the registration process only takes a few seconds.
Immediately after logging in, you will be taken to the account summary, where all relevant information can be viewed.
Here you can activate the filebox, redeem a voucher or connect the account to one of your social media accounts.
In addition, the Traffic Share option is available, and possible notifications are also displayed in the account summary. Activating the Filebox allows other users to upload files to your account.
If you wish, you can decide whether each user can upload files or only users who have the necessary password by checking the box.
With the Traffic Share option it is possible to make your data available for other users to download. Again, you can set up password protection so that only certain users have access to your files. If you would like to upload files yourself, you have three different options to choose from.
You can do a local upload from your computer, remote upload or FTP upload with a maximum size of 5 GB per file and upload, making it easy to upload large files at once.
For all those who are looking for certain data at Filefactory, the search function is recommended. Here you can specify what you are looking for and get, as long as other users have the desired files and have shared them for you, access to a large number of data packages.
The search function allows you to search through all files or search only for specific files in six categories – audio files, video files, images, programs, documents and archives.
The advantages of a premium account with Filefactory

A Premium Account at Filefactory offers you a multitude of features which are not or only to a limited extent available with the free account.

While the download speed is limited for anonymous users and normal members, as a premium member you have unlimited speed.

In addition, unlike the free membership with the Premium Account, you can make an infinite number of downloads at the same time.

While the files are only stored for 90 days with the free account, premium members can have their files stored for an unlimited period of time.

Furthermore there is an hourly limitation as well as possible waiting periods with the not liable to pay the costs membership, while neither a waiting period nor a download limitation are to be expected with the Premium account.

If you choose a Premium Account, you also benefit from the automatic download continuation. Most download managers can only be used with the Premium Account.

The premium account is free of advertising and allows you to hot link files and upload them via FTP.

Our conclusion about the provider Filefactory

Finally it can be said that the provider Filefactory fully meets our requirements regarding privacy and data protection, both you as a user and your data are safe with Filefactory.

In addition, members without a Premium Account have access to a lot of data. Premium members can use the Filefactory service without restrictions and thus make a large number of files available to the general public as well as download valuable data packages from other users.

The site is designed to make it easy for you to navigate to your desired destination, and the principles of fair use and guidelines against child exploitation are commendable.

So simply use Filefactory's free membership offer to convince yourself of the variety of possibilities. If you like, you can easily and securely upgrade your free membership with Filefactory to a valuable premium account within a few minutes by depositing a credit card.