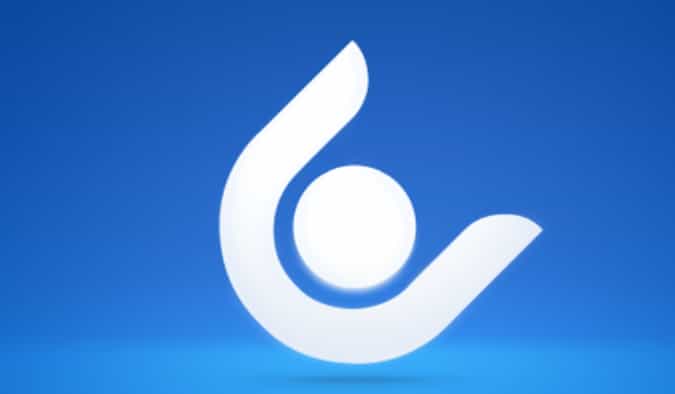 The provider Uploaded is a cloud storage provider service, which comes from Switzerland and offers virtual storage space on which users can store their personal files. In addition to a wide range of premium rates, the provider also offers a free account. So you can try the Filehoster service before you buy Uploaded Premium.
Positive characteristics of the supplier
Premium rate from 4,99 Euro
attractive earnings
free premium upgrade through points
Support by phone
Tariffs for corporate customers
The complete offer of Uploaded at a glance
The Filehoster Uploaded offers you a variety of premium rates for private customers as well as two rates for corporate customers. If you buy a premium account at Uploaded, you can use the full scope of the provider. However, even with a free account you can test the service of the provider to a limited extent. By using an Uploaded Coupon, which you may find on the Internet with a little luck, you can reduce the price of purchasing an Uploaded Premium Account. So it's worth searching for attractive uploaded coupons on blogs, coupon pages or other websites.
Offer for private customers
The offer for private customers consists of a total of 6 tariffs, which range from 4.99 Euro to 99.99 Euro per month in terms of prices. The Uploaded Premium rates can be purchased for 48 hours, one month, three months and six months. The range also includes an annual and a two-year subscription. At the end of the uploaded premium tariff you will receive a certain number of points, which you can use to expand your account and its functional range without any financial price.
Offer for corporate clients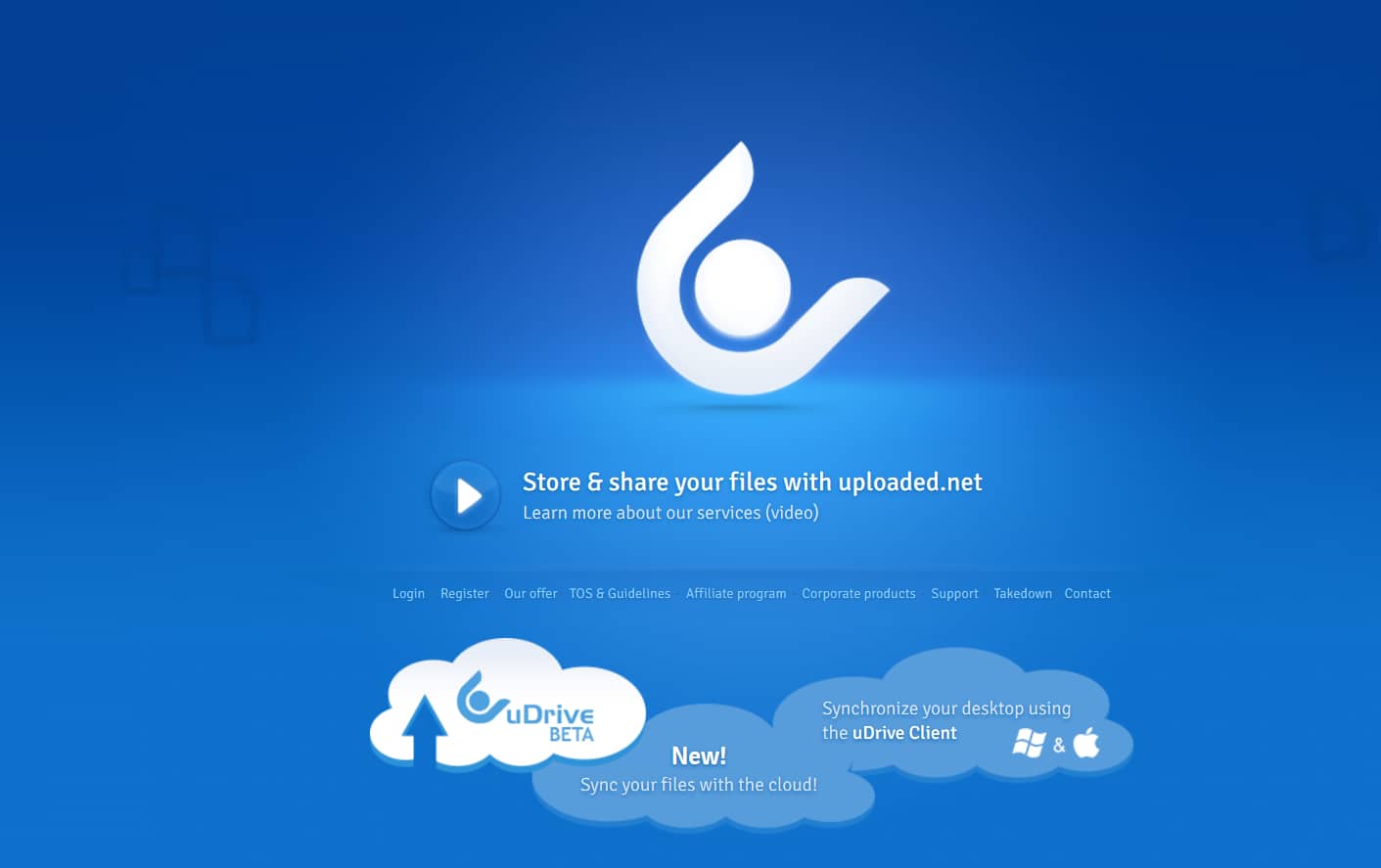 Besides the offer for private customers, Uploaded also offers two corporate products for corporate customers. These uploaded premium prices can only be used by commercial customers and not by private customers. These are the Corporate Premium and Corporate Premium Plus rates. Both tariffs have a term of 12 months. The Corporate Premium rate offers you 500 GB backup storage per month and 500 GB corporate hybrid traffic per month. The Premium Plus tariff increases storage and traffic from 500 GB to 1 TB.
Bonus offers
Uploaded offers you several ways to earn and save money on the platform. The attractive points system allows you to purchase a free 30-day subscription. By collecting enough points you can use the Premium Service without having to buy an account at Uploaded.
Another option is to generate revenue by uploading files. Anyone who has taken out an Uploaded Premium plan and uploads popular files that are frequently downloaded by other users can regularly look forward to a worthwhile payout.
In addition, you can receive a commission for recruiting new users. Both the creation of a free account and the purchase of an uploaded account as well as possible follow-up orders are remunerated.
Costs and payment options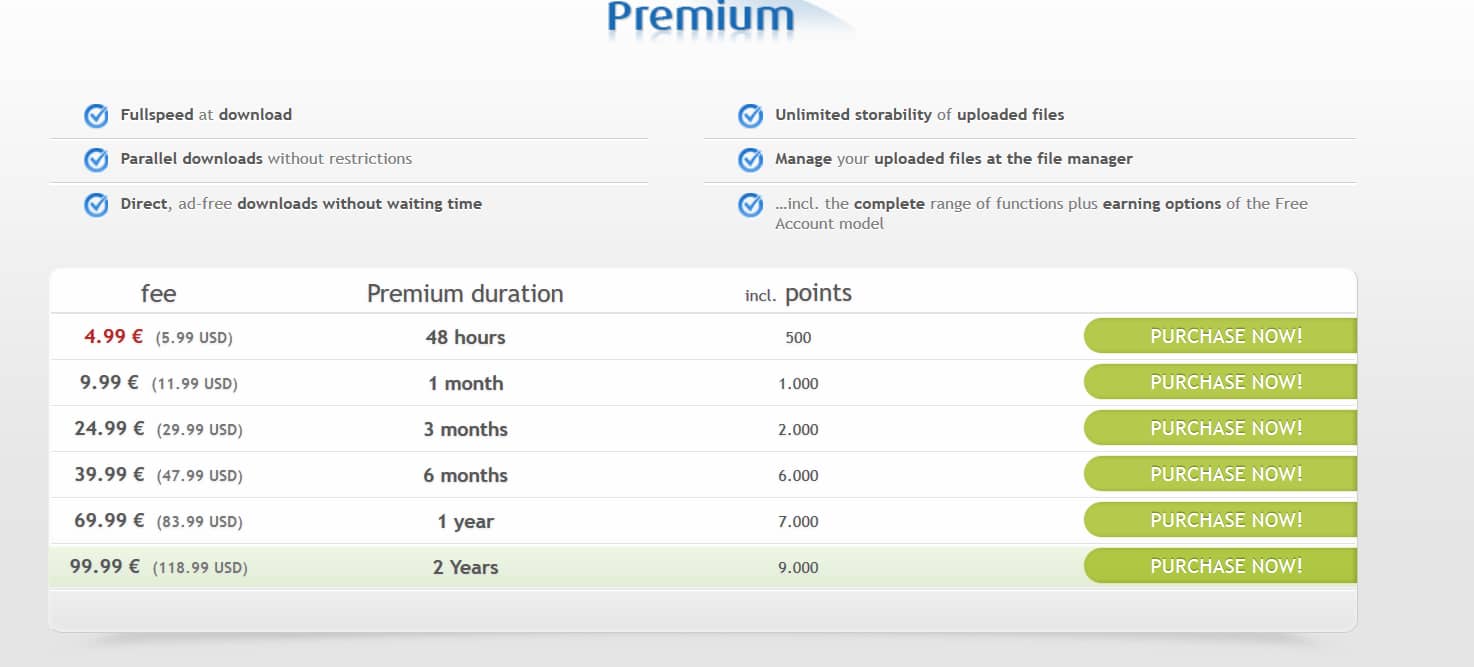 The Uploaded range is divided into six tariffs. The cheapest rate is for 48 hours, the second cheapest for one month and the next for three months. In addition, there is a six-month subscription, an annual rate and a premium account for two years.
You get the 48-hour account for 4,99 Euro. For 9,99 Euro you can use the services of Uploaded for one month and for 24,99 Euro up to three months. For a six-month subscription, the price rises by just 15 euros to 29.99 euros and for an annual subscription to 69.99 euros. You get the best conditions if you buy the 2-year account at a price of 99.99 euros.
You can conveniently pay for your Uploaded Premium Account with your credit card or have the money debited from your account via direct debit. The purchase of the uploaded account via Paysafe, immediate transfer as well as SMS Pay and Call2Pay is also possible. In addition, the provider accepts Bitcoins as a valid means of payment.
| 4,99 € | 9,99 € | 24,99 € | 39,99 € | 69,99 € | 99,99 € |
| --- | --- | --- | --- | --- | --- |
| 48 hours | 1 month | 3 Month | 6 Month | 1 year | 2 years |
| 500 Points | 1,000 Points | 2,000 Points | 6,000 Points | 7,000 Points | 9,000 Points |
| full speed | full speed | full speed | full speed | full speed | full speed |
| Parallel Downloads | Parallel Downloads | Parallel Downloads | Parallel Downloads | Parallel Downloads | Parallel Downloads |
| No waiting time | No waiting time | No waiting time | No waiting time | No waiting time | No waiting time |
| administration | administration | administration | administration | administration | administration |
| with file manager | with file manager | with file manager | with file manager | with file manager | with file manager |
Privacy Notice and Data Protection
In the search for the perfect file hoster, the factors of data protection and privacy naturally play an extremely important role in the decision-making process. With the provider Uploaded you can be sure that your data will be treated securely and confidentially. The provider explains the exact handling with regard to your data within the framework of the general terms and conditions and guidelines.
Stored data will not be viewed by the provider without legal order. By using the services of Uploaded, information is automatically stored, including both personal data within the framework of registration and anonymous data, which is evaluated for statistical purposes. In accordance with the data protection guidelines, the provider promises not to pass the data on to third parties, unless there is a legal obligation.
After-sales service
The link to Uploaded support is at the bottom of the page. From there you get to the support area, where you have two options. Firstly, you can contact customer service directly by phone using the number provided. Optionally, you can also send your request in writing to Uploaded support via the contact form.
User-friendliness
After logging in, you can choose between File Upload, Remote Upload and FTP Upload and Import. This includes information about your account, your income and your subscriptions. Also the traffic and the used and available backup storage are displayed here. The profile view also allows you to upgrade your account to a premium account. Above you will find the areas "Files and Folders" and "uDrive".
The provider could get a small minus point for the fact that there is no direct search function on the page. At this point, however, other services such as the Rapid Search Engine or the Service DDL Search Free can be used.
The advantages of a Premium Account
A Premium Account allows you to use the services of Uploaded with the maximum speed and start several downloads simultaneously without any restrictions. The download starts immediately and without advertising. You can manage your uploaded files, which have an unlimited durability, clearly in the file manager.
Our conclusion about the provider Uploaded
The provider Uploaded can convince in the context of data protection and privacy with a high degree of security and offers a wide assortment of tariffs in addition to the free account. The 48-hour rate, which is already available from 4.99 euros, stands out above all. Interesting are also the tariffs for corporate customers, which are only offered by a few file hosters.
The website is clear and well structured both before and after login. If you have any questions, please contact our customer service by phone and contact form.
If you choose an Uploaded Premium Account, there are five other payment methods in addition to credit card, direct debit and Bitcoin.
We recommend that you search the Internet for an Uploaded Coupon before purchasing your Uploaded Account. These can always be found directly at the filehoster or other websites. Simply enter the keyword "Uploaded Coupon" in your browser to benefit from a better price when purchasing your Uploaded Premium Account.